I'm not sure whether to call this a win or a fail, so I guess I'll call it a tie. I posted before about my frustrations trying to take a picture of one of my mandalas that I had colored.
Creating the mandalas, both the ones for this blog and the ones I'm designing for my (someday) online store, has been a huge creative outlet for me. When I started doing them for this blog, it was more to have something creative to do and share. It also let me learn how to use my iPad, Apple Pencil, and Procreate app better.
In just a short few weeks, I have experimented with all kinds of elements and designs and have felt comfortable enough to move on to experimenting with new brushes and effects and such in Procreate. It has made a huge difference to how I create the coloring mandalas – I am much happier with what I am creating now.
Since the ultimate goal is to create mandalas that people can color, I wanted to try some of my designs and see how they worked. The coloring part went great. The getting photos part – not so much.
After several weeks of teeth-gnashing and hair-pulling, I saw someone on social media talking about DIY light boxes that would help you take better photos. I don't have a good place in my home to take a photo, so I thought, well, I'll just make my own light box.
So I watched a few videos about how to do that and then decided that by the time I gathered all the materials and put in the time to make one, I could probably just order one. Amazon, here I come!
I found an inexpensive light box for around $25, which was less than I would have spent on materials and time to make it myself. It came with a little tripod to hold my phone, the box, and 4 different colored backdrops. It's made to refold and travel, but I've just left it set up. It has 2 LED light strips that I run off a portable battery charger and it has a hole in the top that I use to take the photos from above.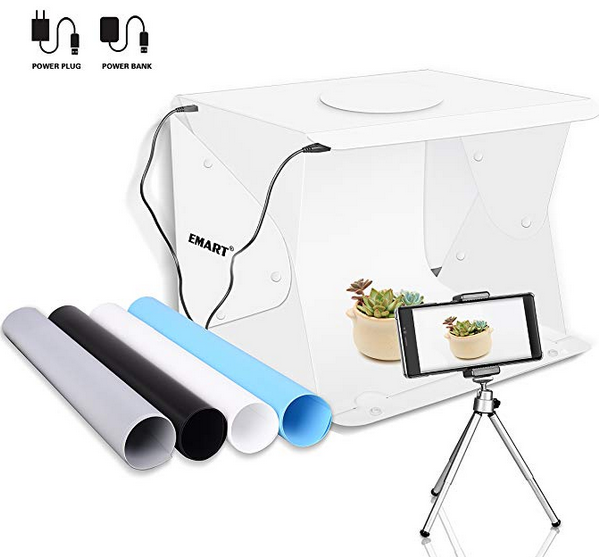 There are a ton of them online and some are even cheaper, though the quality will probably differ as well. It's not fancy, but it gets the job done and I was able to set it up quickly and take the photos I wanted all in about 15 minutes.
So, I'm calling this a win because I did manage to get the photos I wanted of the colored mandalas. However, I feel like I kinda cheated because I ordered the light box in order to do it.
Sitting here writing about it, though, I've decided I'm being too hard on myself. Professional photographers use lights all the time and no one considers it cheating, right? So – win!
Stay tuned for posts with the actual photos of the colored mandalas. 😀